An interview with Jill Anthony, Speech-language Pathologist
This month, the Alice Paul Institute's Girls Leadership Council had the pleasure of hosting a variety of professionals across numerous fields for their much-anticipated Mentor Night. We sat down with a handful of mentors from the series to discuss their thoughts on mentorship, their advice for young professionals, their work environments, and more.
This content has been edited for clarity.
Describe your field and the role you play. Please include any relevant educational background, training, experience, certifications, etc.
Jill Anthony: I am a Speech-Language Pathologist in a rehabilitation and acute care hospital. I have a master's degree and have completed a clinical fellowship year. In order to maintain my license to practice, I must complete 10 hours of continuing education per year. I specialize in adult communication and swallowing disorders. 
Did you have a professional mentor? If so, please describe how this relationship impacted your career.
Jill Anthony: I have had and continue to have professional mentors, and I have been a mentor for others throughout my career as well. Initially I developed a close relationship with several of my professors. Even though I graduated 28 years ago, I am still in touch with several of them, and I treasure these relationships. 
How do you believe mentorships can be a valuable asset for young women beginning their professional careers?
Jill Anthony: If a specific mentor is not available, then choosing to work in a setting that is team-focused is extremely useful. If your chosen field is interesting and exciting then you will continue to learn throughout your working years. It is important to have people that you feel comfortable asking questions of.
What advice would you give to your younger self about going into the workforce?
Jill Anthony: Get as much varied experience as you can as soon as you can even if it means you are working very long hours.
Did your gender ever pose an obstacle to you in your career journey? If so, please describe.
Jill Anthony: I happen to work in a field that is almost all women so my gender has not impacted my career path. However, because we are mostly women, our pay is not what it should be.
Do you feel your field embraces diversity? If not, how do you hope to see things improve in the future?
Jill Anthony: Speech pathology and healthcare in general is very diverse. 
What is one thing you hope the GLC girls take away from meeting you?
Jill Anthony: The best way to figure out what career you are interested in is to talk to as many people as you can and go observe people at work. Most people are happy to have a younger person shadow them.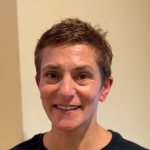 Jill Anthony is a Speech-language Pathologist in the Rehabilitation Department at Virtua Our Lady of Lourdes Hospital. Jill has been working with adult patients in the hospital setting for 30 years and specializes in speech, language, and swallowing dysfunction. Patients with a variety of diagnoses require her services including stroke, heart disease, cancer, respiratory disease, neurologic diseases, and most recently Covid.