Join us on the 2nd Saturday and 3rd Thursday* of each month for dynamic and engaging programs! Our wide array of programs features expert presentations on Women's and Suffrage History, Civic Engagement, and Advocacy; author talks and film screenings; and moderated community conversations that invite attendees to share and explore their own insights and experiences.
The Alice Paul Institute is committed to providing accessible programming for our community members. If you require accommodations for an upcoming program, please email us at least two weeks in advance and we will work to meet your needs. With notification, available accommodations for our virtual programs include ASL interpretation and closed captioning. If you have further questions, please contact us at programs@alicepaul.org.
*Programs and dates subject to change. Follow our social media and website for up-to-date scheduling and details each month.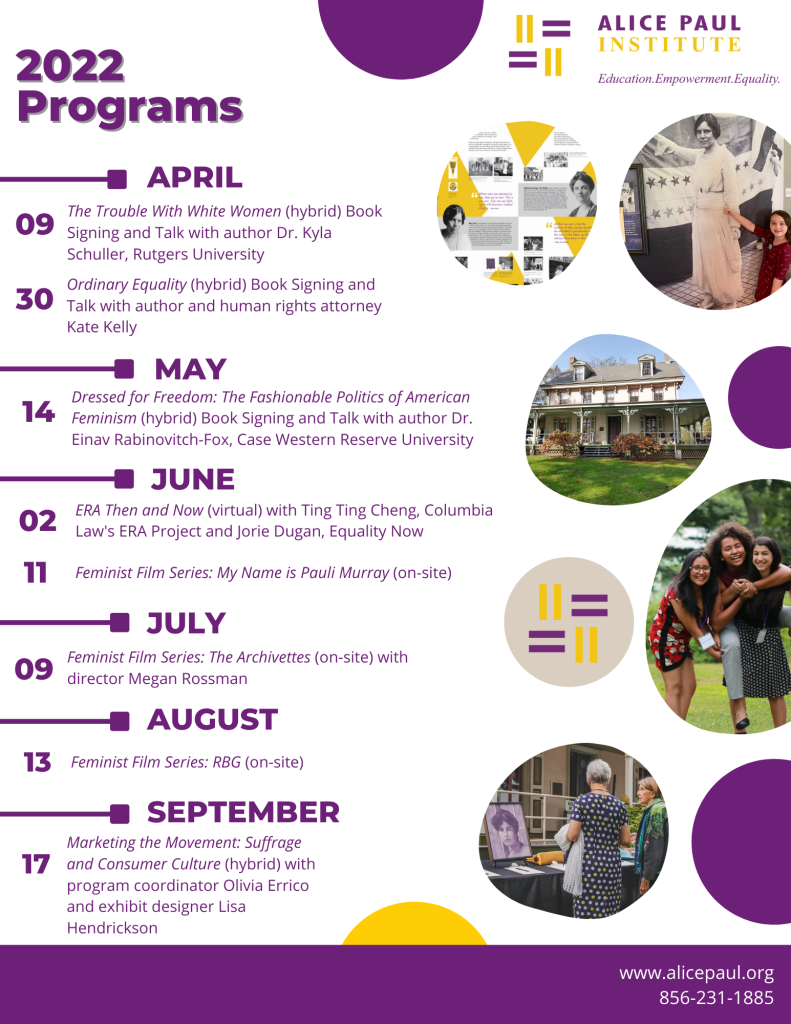 The Mystery of Alice Paul's Missing Dissertation
The Very Queer History of the Suffrage Movement
Trailblazers: African American Women in New Jersey Government
Author Talk with Tyler Boyd
The 28th Amendment: A Bipartisan Case for the Equal Rights Amendment
The Alice Paul Institute offers a variety of dynamic presentations about Alice Paul, her role in the U.S. suffrage movement, and her lifelong work for true and lasting gender equality in America and around the world.
Life of Alice Stokes Paul
Alice Paul was one of the most influential women in 20th-century America, leading the final fight for women's suffrage and championing equal rights for women through most of the 20th century. Learn more about her in this program, which features a video on Alice's life and a facilitated Q&A. We offer two options for this program: A 30-minute program featuring a 15-minute video and a 15-minute live Q&A, and a 60-minute program features a 15-minute video and a 45-minute facilitated discussion. 
Alice Paul: New Jersey's Crusader for Equality
This presentation featuring original photographs from Alice Paul's personal collection explores her long and influential life. Beginning with her roots in a traditional New Jersey Quaker community, and spanning her lifelong pursuit of Constitutional security for women, Crusader for Equality teaches about and celebrates one of America's most important activists. We offer two options for this program: a 25-minute presentation that includes a single-use digital access code to the pre-recorded content and a 60-minute program featuring a presenter who will conclude the program with 30-minutes of Q&A and discussion.
An Introduction to the Equal Rights Amendment
Learn about the progression of the Equal Rights Amendment, spanning the nearly century-long battle for its ratification. Gain a deeper understanding of the historical struggles as well as the present-day obstacles to finally enshrining gender equality in the U.S. Constitution. This presentation also includes a brief introduction to Alice Paul, leader of the final fight for women's suffrage in the US and author of the Equal Rights Amendment. We offer two options for this program: a 30-minute program featuring a 20-minute presentation and a 10-minute Q&A, and a 60-minute program featuring a 20 minutes presentation and a 40-minute facilitated discussion.
Women have made huge strides towards equality in our personal and professional lives, but many of us still face external and internalized barriers to success. From inadequate accommodations for parents to the Glass Cliff to Imposter Syndrome, there are many obstacles on our path to social and professional equity. In "Lead like a Woman," the Alice Paul Institute introduces effective leadership traits by first looking at the life of Alice Paul and the ways she succeeded and stumbled in her work. From there, we examine how many of the roadblocks Alice faced still promote systemic gender inequality and some of the ways we can combat that in our careers.
This 60-minute program includes a slide presentation and facilitated discussion with the Alice Paul Institute's Executive and Program Directors.
Please note: The Alice Paul Institute uses Zoom as its digital hosting platform. If you require a presentation on your own hosting platform, please let us know when making your presentation request. All of our programming is proprietary information developed by the Alice Paul Institute. You may not record our presentations, or reproduce or share our content internally or online.
Sign up for our newsletter